Structural Drying Services in The Tampa Bay Area
After a flood or water damage loss, your property must be dried out.
Many structural drying companies can only help dry certain surfaces and lack the resources and equipment to dry specialty surfaces such as hardwood, tile and drywall. DRIRITE of Tampa has all the equipment and certified staff needed to dry virtually any surface that has retained moisture. From carpet and padding to hardwood and tile, our specialty drying equipment can get you dried out fast.
At DRIRITE® we understand the time and energy it takes to recover from a flood damage loss. One of the most time consuming steps of the whole water damage restoration process is the drying time. By using our desiccant dehumidification, we can get your structure dry faster and more efficiently than standard dehumidification. Read below to see the benefits of calling Dririte® when catastrophic flooding occurs in one of your homes.
Need Help Now? Technicians On Call 24 Hours!
If you have a clogged toilet or backed up drain and water spills onto flooring or other surfaces, it is essential to clean and disinfect any surfaces properly. DriRite of Tampa has specialty cleaning and treatment equipment to properly clean and disinfect surfaces that sewage or drain backup has come into contact with.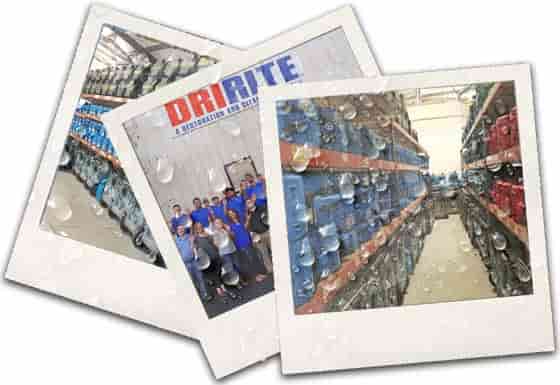 DRIRITE's Structural Drying Guarantee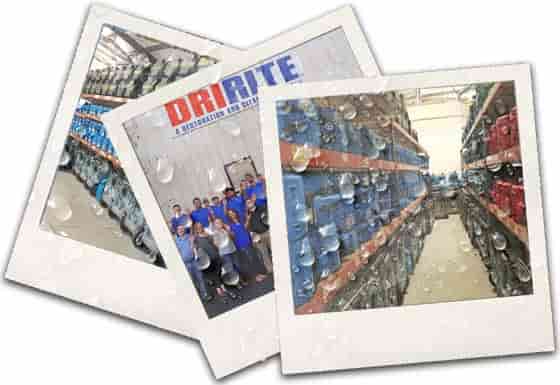 A properly dried and cleaned structure is a healthy structure, improper structural drying can result in secondary damages such as water staining, odors, mold growth, and compromised structural integrity.
DRIRITE® guarantees your property against secondary damages. Our project managers will monitor your project daily, utilizing our infrared imaging camera as well as other tools to insure accuracy and efficiency during the drying process.
Providing accurate documentation regarding your project is what we do best, moisture readings, digital photos, infrared images, a complete written report of all activities is a standard. Providing you a level of confidence that only DRIRITE® can give.
We understand budgets and job costs, water damage doesn't have to impact your bottom line. When a water issue occurs it is usually a direct result of poor workmanship or failed materials. Someone should be held accountable for your damages. Our documentation depicts cause and origin, which will help you defend and enforce charge backs to your subcontractors or suppliers.
When it comes to a water damage emergency, DRIRITE of Tampa can be on-site FAST no matter where you live.
I had an emergency with a leak in my home Nick and Collin came out right away and assessed the situation and began taking care of my home I highly recommend Nick , Collin and dri rite fast and very professional service thank you guys

Feelings Tavera is very knowledgeable and was a pleasure to work with.Thank you, owner of 17416 Nectar Flume Dr. Land O Lakes

Magdalena C.
15:18 30 Nov 23
Derlin was professional and explained every step of the process in an easily understood manner.

Li & Alberto, was helpful & showed us. What all needed to be treated in the house. Very detailed & willing to get the job done.

Lee and Alberto were extremely helpful! Walked us through every step of the remediation process and were happy to answer any questions I had. I would absolutely recommend their work! 10/10

Lee and Alberto were very helpful thx

We Offer Free Estimates On All Water Damage Emergencies.
Mold can start to grow within 24 hours of a water problem, don't delay, call DRIRITE® today!
Structural Drying FAQs
You've Got Questions. We've Got Answers.
Flooding and water damage from appliance leaks or burst pipes can weaken the structural integrity of your home or business. Damage from excessive water can also ruin flooring, foster mold growth, and leave strong odors behind. That's why it's vital to act fast when your home suffers water damage. 
The quicker water can be extracted, and structural drying can begin, the better chance you'll have at mitigating the damage. However, some homeowners or businesses may not know how the structural drying process works. If you've never heard of it, take a few minutes to read through these structural drying FAQs. 
What Is Structural Drying?
After your home or business has experienced flooding, its structural materials need to be thoroughly dried before people can re-enter. This process of drying out the building's structures is known as structural drying. Professional restoration companies, like DRIRITE®, offer structural drying services that help you avoid further damage or mold growth. 
Why You Need Water and Structural Drying
Without structural drying, you risk mold growth and deterioration of the materials that hold up your home. This process is intended to preserve as much structural material as possible. Pieces that are deemed to be too far damaged or deteriorated will need to be replaced. 
Why Use Professional Services?
Sure, you could try handling structural drying on your own. But consider that the professional restoration companies who provide structural drying services know how to handle just about any situation. They're trained to assess risks and use techniques and advanced equipment that'll get the job done right.
How Long Will It Take My Property To Dry?
It's difficult to say exactly how long the structural drying process will take. However, DRIRITE® specialists can be at your property within the hour of you calling us. 
The time it takes to completely dry your property will depend on:
Location

Duration

Water source

Types of building materials

Weather conditions
What Happens During Structural Drying?
The structural drying process used to involve the removal of walls and flooring. However, modern technology allows us to remove excess moisture and dehumidify the air with no removal necessary. Here's how it works:
We use special equipment to extract water

We evaporate moisture using air movers 

We dehumidify the air to help prevent further damage from rot or mold 

We continuously monitor the temperature to ensure the ideal environment for evaporation and dehumidification
What Are the Benefits of Structural Drying?
From time savings to water damage mitigation, structural drying is an integral part of getting your property back to its pre-loss condition. Here's a breakdown using structural drying services. 
Time Savings

—Professionals know every step of the process and can get it done efficiently. 

Damage Prevention—

You can't control the initial damage, but our team can help prevent further damage to your property.
Not Damaging

—The structural drying process is meant to preserve as much of your property as possible.
Keeps Mold at Bay

—Mold growth needs moisture, which is why we use advanced equipment to ensure as much moisture is taken out as possible. 
My Wood Floors Are Wet and Buckling. Will They Have To Be Replaced?
Assessing whether you'll need to replace your wood flooring happens during the drying process. Our equipment will extract as much moisture as possible to help your flooring return to its pre-loss shape. However, it may be too far damaged. We can help you file an insurance claim and work with your adjuster to determine if they need replacing. 
Trust DRIRITE® To Dry and Dehumidify Your Property
When it comes to drying your property and getting it back to its pre-loss condition—experience and integrity matter. Our extraction specialists have helped businesses and homeowners recover from disaster for over 40 years. We use the latest drying and dehumidifying equipment to help minimize your losses, and we'll keep you up to date every step of the way. Give us a call at  813-635-0303  any time of day or night to get started.